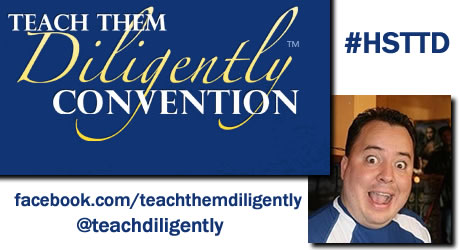 Since the announcement made its way into the online universe, I guessing it's all official and I can also talk about it. I'll be joining the folks over Teach Them Diligently by participating as a member of their Blogger Team. I was combing through my spam email account and noticed that I'd received an email from Rebecca who heads up the social media efforts for the TTD organization.
In her email she said that through the conversation in a recent Twitter party, they had identified the need to get more dads involved in the community and would like to invite me to be the first dad to participate. Whether it's a combination of excitement or my inability to say "No" to anything related to social media, I'm super excited to be considered and offered this opportunity from the group.
I was able to attend the inaugural Teach Them Diligently conference that took place last year in Spartanburg, SC. It was a very good conference and one that went very smoothly for it being the 1st conference. From my experience and exposure to the folks behind this organization, I can tell you that I've been very impressed with efforts and dedication to equipping parents and families to disciple their children.
And these words, which I command thee this day, shall be in thine heart: And thou shalt teach them diligently unto thy children, and shalt talk of them when thou sittest in thine house, and when thou walkest by the way, and when thou liest down, and when thou risest up (Deut. 6:6-7).
I'm not sure what all will be happening with my involvement yet, but you can be sure you'll be hearing more about it here on my blog, on Twitter, Facebook and even Google+. So be sure and connect with me in all of those places, whichever one you prefer or all of them. Also, don't forget to connect with the Teach Them Diligently crew online as well at these location: