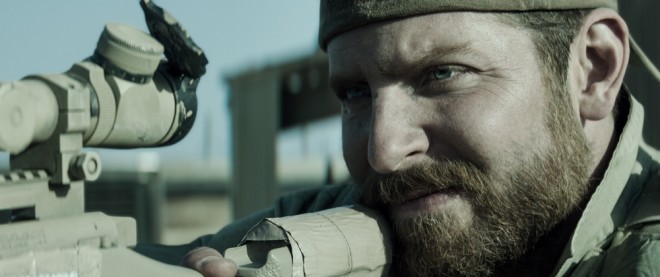 One of the most powerful movies I've seen in recent times that really tells a character story has been "American Sniper" starring Bradley Cooper as Chris Kyle, America's most deadly sniper in history. As Cooper will say about his effort in the film, his goal was to tell the story of American soldiers and their families. Yes, of course this movie is a military movie and therefore depicts lots of violence and language, but I don't think any of it is gratuitous. That's very important to me. I'm not squeamish around violence or language when it depicts the reality of the world we live in.
I watched "American Sniper" in the theater with a friend, but my family has not seen it. I'm looking forward to watching it this evening with my family and getting their feedback.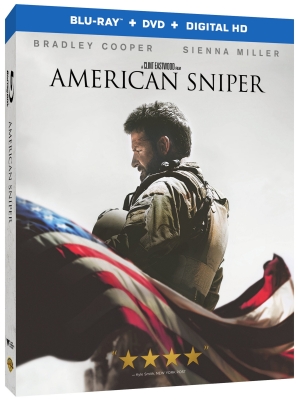 I think the movie sells itself if you're at all interested in a military themed movie that develops the story and characters, and this movie only more so because it's based on a real person and their experience in life. Warner Bros, who produced the film, doesn't need my help selling it honestly. But what I'm wanting to get across with this post is the following:
"American Sniper" will be available on Blu-ray Combo Pack and includes the film in high definition on Blu-ray disc, a DVD, and a digital version of the movie in Digital HD with UltraViolet. Fans can also own "American Sniper" via purchase from digital retailers.

Warner Bros. Home Entertainment will donate a portion of the proceeds across physical and digital sales to Wounded Warrior Project® (WWP). One dollar of each purchase will be donated up to $1,000,000 from April 21, 2015 through December 31, 2015, void in Alabama, Hawaii, Illinois, Massachusetts, Mississippi and South Carolina. To get involved and learn more, visit www.woundedwarriorproject.com.

The mission of Wounded Warrior Project is to honor and empower Wounded Warriors. WWP's purpose is to raise awareness and to enlist the public's aid for the needs of injured service members, to help injured servicemen and women aid and assist each other, and to provide unique, direct programs and services to meet their needs. WWP is a national, nonpartisan organization headquartered in Jacksonville, Florida. To learn more about WWP's life-saving programs and services, please visit www.woundedwarriorproject.org/programs.
Everything I know about the Wounded Warrior Project makes it something that I want to help promote and support. The fact that we have the opportunity to potentially raise ONE MILLION dollars for their effort by barely lifting a finger seems like a no-brainer. You've got the opportunity to have a copy of this powerful film in your collection and contribute to this organization. That's some good news right? Take the time now to visit the Wounded Warrior Project website and connect with them on all their social media accounts (found in the footer on their site).
BUY American Sniper (Blu-ray + DVD + Digital HD UltraViolet Combo Pack)

 NOW! on Amazon.com
Some more good news is that I've got two copies of the film to giveaway to some of my readers. I love the fact that I've been given an opportunity like this by participating with Grace Hill Media to promote this film and this opportunity. But, here's what I'd like to have happen. If you end up winning one of the copies of this film from my website, I'd love to have you commit to taking at least a significant portion of the money you would have spent on this film and donate it to Wounded Warriors above and beyond this promotion.
All you need to do to enter this contest is one of the items below: (gain more options by doing all of them!)
Watch this exclusive video below from Warner Bros. with the actors Bradley Cooper and Sienna Miller talking about the film and their efforts to achieve authenticity of the story of soldiers and their families.
Various Photos from "American Sniper" starring Bradley Cooper and Sienna Miller and directed by Clint Eastwood.