If there's one thing our family has enjoyed as a side benefit of homeschooling our kids it's been the increased flexibility in our schedule to travel a little more than we probably get to in any other circumstance. My challenge is that I'd like to push that effort even further, but my wife and kids aren't of the same mind.
You see, I'd love to sell most of everything we own and just hit the road full-time and explore. Along with homeschooling our kids with the curriculum we're already using, I can't imagine a better education could be obtained than by literally exploring the world around you and applying what you've learned in all of your adventures. I'm sure it would give my kids plenty of content for the blogs they say they want to start writing of their own as well.
Sadly, I don't see this adventure happening anytime in the near future for a variety of reasons. I think one reason that would be tough for me to get over would be the loss of the community of friends we've established here on the south side of Indianapolis. The majority of our family are here or within 2 hours drive of our home so we get to see them regularly. And, we've built a tremendous network of friendships through our local church. That would be very hard to replace with a life on the road.
Luckily for me, I can live a little vicariously through some other homeschooling dads that are on the road living their adventures and sharing their stories with the world through their websites.
Recalculating Route – The Arnold Family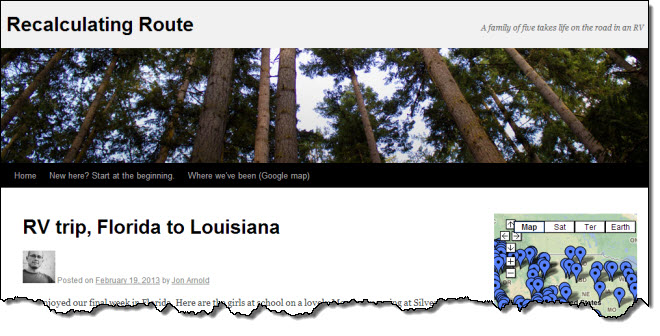 First there's the Arnold family. They are originally from Indianapolis and I found out about them through one of my employers. Jon, the dad, used to have an office in the same corporate office space in Indianapolis that I work in now. Since I found out about his story and his website, I've been following their family's adventures.
As some of you already know, my family and I are planning a bit of a lifestyle change later this year by taking life on the road for a year in an RV. Even though we've been thinking this through for well over a year now, there remains no shortage of hurdles that could derail our plans at any moment. Some of these hurdles, like renting the house, are so big they become ironically easier to face. It's the seemingly smaller but more sinister hurdles like fear or complacency that I believe pose the greatest threats.
You can hop in the virtual backseat with the Arnold family at Recalculating Route.
It's A Haigood Life! – The Haigood Family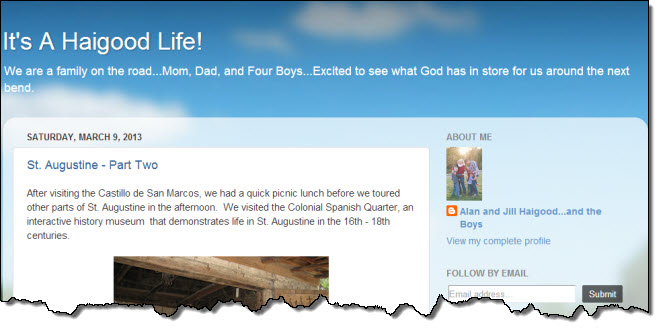 Next up is the Haigood family. They were originally in the St. Louis area I believe and Alan was a pastor. They were looking at a change in their calling to ministry, but wasn't quite sure what that would entail. In the meantime, Alan decided it was time to spend both quality and quantity of time with his kids.
Finally, my life is to lead my boys. Not only do I want to honor and obey God and love, honor and serve my wife, I want to model it for them.  I don't want what the world would consider safe and secure to become golden handcuffs that would keep me from being the dad God wants me to be.  I want to be there with them when they find a cricket, see a shooting star, ask why the sky is blue, figure out a math problem, and tell a funny story.  Now again, I'm not saying every dad should stay at home, but for me, for this time, this is my place…and I don't want to miss a minute.
How busy do we get in life as dads doing important stuff, but still missing the more important things in life?
You can keep up with the Haigood family at It's A Haigood Life!
Boyinks 4 Adventure – The Boyink Family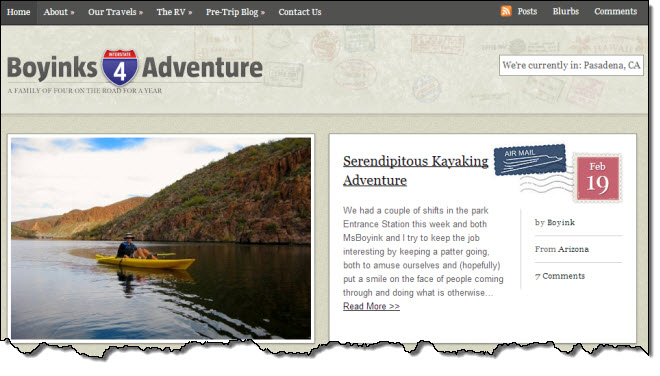 Bringing up the rear of this little family RV caravan is the Boyink family. This is the most recent family I've come across experiencing the adventure of life on the road. I stumbled across their story as I read an article about them through a software company I use (Techsmith's Snagit software is what I used to grab the screenshots of this post).
I encourage you to read the entire "Why We're Doing This" post on the site as it probably most closely reflects my own feelings about the current state of matters. But if you don't want to read it, here's a little snippet:
It's a crazy system we've created for ourselves – wherein we give away the best years of our lives to someone (or something) else.  We have kids but are too busy to be with them.  We buy a house and then have to work long hours to pay for it and keep it up.  We spend our most productive and creative years helping design, build and sell widgets that were the fruit of someone else's dream.  And we do all this for years – in hopes that when we finally get to retirement age there is just enough money and just enough health and just enough life left in us to finally kick off the shackles and take complete ownership of our days.
Another family. Another adventure. Follow along with the Boyinks at Boyinks 4 Adventure.
To find even more families that are doing full-time traveling together, visit the Fulltime Families website. It's a members saving program and website for families that full time RV, but also a great place to find more families and read more stories from the road.