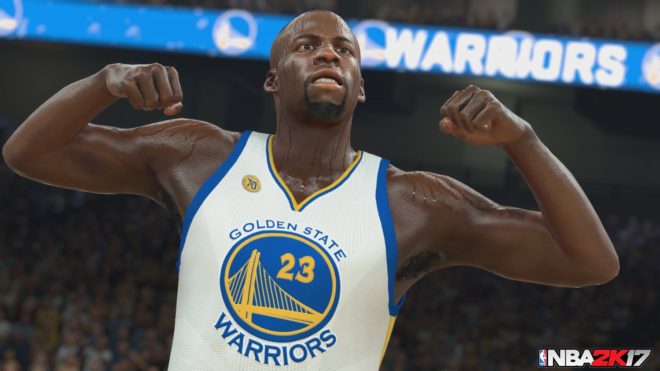 I just read an article that I believe is an absolute brilliant type of cross-promotion and marketing between two companies.
Earlier this year my wife got me a fitbit HR as a gift for my birthday. I thought back then that the integration between the device and my phone and my online profile was a good measure. You see I can connect with my friends and family members that may also have a FitBit device and challenge them to certain levels of activity. The most common of these is just a simple step count. The somewhat standard challenge goal for most people is to get 10,000 steps a day.
Well, fitbit has partnered with video game developers for NBA 2k17 to give you in-game player development perks if you obtain a 10,000 step goal in real life. That's right! Brilliant right? I know when I was playing Tiger Woods golf on the Xbox regularly, just about the only thing I could think of was doing whatever I could to get my custom player's skills up as high as I could so I had an advantage on both the game itself and anyone I might play against, including my wife! The downfall to that relationship was that it required me to spend as much time as possible playing the game, sitting on my butt in front of the TV, as games are great to have fun and you can even make money too using games like online pokies in different online casinos as well.
With this branding crossover, you start to reward kids with a direct exchange of being more active in real-life to gain something in the virtual video game. This time not just with gadgets from https://progamerreview.com/best-gaming-monitors/. What if we started finding more crossover promotions that promoted healthy activities instead of bad ones? Imagine Subway giving away power up codes for eating a low-fat sub and not ordering a soda? Granted, that's going to go against their bottom line with the no soda thing, but you get my point.
What if parents could get little credit codes they could give their kids for positive behaviors that were directly related to health and fitness, or maybe even just good grades. Finish all your vegetables on your plate at dinner, here's 25 booster points. Get an A in science this semester, here's 1000 booster points. Imagine getting an extra life in the Super Smash Flash 2 game if you finish your term paper.
The biggest challenge once this became popular would probably be working on ways to keep people from gaming the system. Because whatever system is out there for rewards, people will be looking to game it.
What are your thoughts on this type of marketing cross-promotion?
Original Article: Here's Why Harrison Barnes Always Gets in his Steps Before Sitting Down to Play