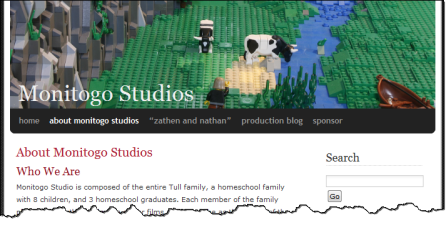 This past weekend I was at SHEM Homeschool Convention in Springfield, MO. I was there working at the A+ TutorSoft Multi-Sensory Math Curriculum booth. Across from us was a vendor called Monitogo Studios and they were continuously busy with people stopping by their booth. The reason?… LEGOS and high-tech equipment.
You see, Monitogo Studios as I found out is a little company that jumped out of a homeschooling family, The Tulls. They've ventured into making clean, family-friendly movies using LEGO's and stop-animation. Greg and his two sisters were at the booth and were very impressive as they represented their company, worked with all the kids who were intrigued with what they were doing and sharing their story with homeschoolers and their parents.
I kept waiting to find a time when they weren't busy, any time they weren't we seemed to be and vice-versa. So, hopefully this blog post will help me gather some more information and present it to everyone else.
I was looking for a video clip of what they've done so far, but couldn't find anything on their website or YouTube channel, but I did find this video that talks about the effort after one of their shoots. 8 hours of work for 10 secs of finished animation.
They were there to try and recruit some interns to help them finish their feature length movie "Zathen and Nathan" that's currently in production. So if you're in the Springfield, MO area have a love for LEGO's and a desire to get into film-making, check them out.